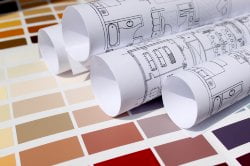 Wall design is a very important part of modern interior design, after all the room walls are the largest part of the living area.

Therefore we would be happy to develop the ideal solution for your premises, together with you. Let our various choice of possibilities inspire you and choose between…
Different wall coverings
Different wall coverings made of cloth
Filling techniques
Paints
Special solutions for wall coverings.
We take it for granted that we enable your individual wishes and ideas. If you need a wall covering in a special size or if you, for example, want one of your holiday pictures as wall covering, just let us know.
Feel free to contact us comfortably with our contact formula or just give us a call. We would be pleased to confirm a consulting appointment with you. We are looking forward to you!